Well i got out the old bow and dusted it off a bit and shot it a few times today! I had not shot it since november and i figured i should get it out again!! 1st few shots were not the best at 15 yrds i was grouping about 5 inches. but after about 5 shots i was doing pretty good!
2 arrows at 28 yrds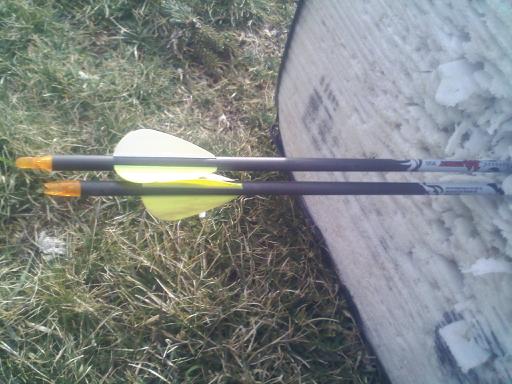 Just thought that i would remind you all to get out them bows and fling some arrows !! That way when september comes around you wont have to practise near as much! it was only about 4 months that i didnt shoot my bow but when i drew it back my bow hand was real shakey i wasnt used to it anymore! Might have to try and shoot some groundhogs with it tomorrow!

_________________
Each day is a gift
)))---------->

~Galen~
I've been shooting the bow latley, but you really dont want to shoot to much latley since of the cold. It is warming up now so soon I'll shoot more than 3. Make sure you post some pictures if you get some groundhogs.

Bryce 21

Giant Typical




Posts

: 620


Thanks

: 6


Join date

: 2013-02-02


Age

: 20


Location :

Wisconsin



Yeah around here its real warm or i probally wouldnt be shooting! and i will be sure and post pics!

_________________
Each day is a gift
)))---------->

~Galen~
Hmmm a grouping like that sure could take out a turkeys head and neck area. Give into the peer pressure!!!

Sodbuster

Giant Typical




Posts

: 906


Thanks

: 19


Join date

: 2012-09-22


Location :

Sw Missouri



Lol you think so? i might take it along if the set ups are right! what kind of broad heads would you guys suggest?

_________________
Each day is a gift
)))---------->

~Galen~

---
Permissions in this forum:
You
cannot
reply to topics in this forum