Looks like I will be going to this show!! Theres going to be tons of people there ! I just might come with empty pockets and a handfull of new toys

  Anyone else Going to be there? I know for most guys its way out of the way! Should be fun and I will be sure to let you all know what I end up buying !
http://greatamericanoutdoorshow.org/

_________________
Each day is a gift
)))---------->

~Galen~
Never been to anything like that. I would think it would take a couple days to see everything that they have. Look forward to hearing a first hand report about all the new hunting gear.

Sodbuster

Giant Typical




Posts

: 906


Thanks

: 19


Join date

: 2012-09-22


Location :

Sw Missouri



Yeah it's a huge show !! I am going to be there Friday and Saturday and hopefully I can get to see most of the show !!

_________________
Each day is a gift
)))---------->

~Galen~
Well It was a fun trip!! we went down on friday and then seen the show on saturday! I actually was suprised how much I was able to see in one day ! I didn't quite see everything but there was not much that I missed!
I got to see some TV favorites :)Duck Dynasty,Swamp People,Arrow Afflicton, Bowhunt Or Die, Lee & Tiffany, Jim shockey and some other people were there as well !
It was a really really busy place to be ! !   Below is a picture of on of the Hallways! It looked like this all day long !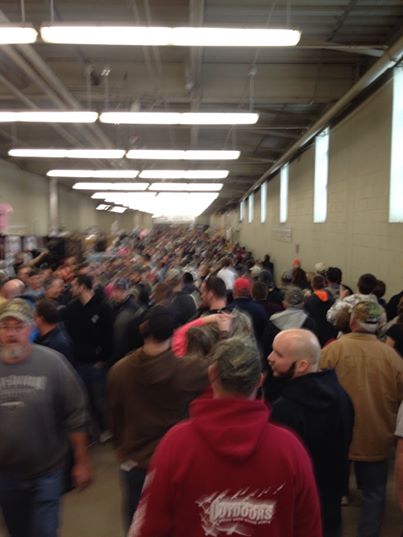 There was allot of cool new stuff to check out! I got to see those tree trunk blinds that J.K posted a picture of, and those things are awesome but not for the price $3,999 Show special! Nah no thanks !  Also got to see some of the new guns Including the new 17 B mag from savage!! It feels to be made a little on the cheap side but im sure you can buy a new stock for it soon if you cant already! That gun would be awesome for small game!  There was so much stuff there I cant even remember Half the stuff!! But I did end up buying a New Spot Light for Nightime predator hunting and the light is awesome !! I saved about 30.00 since i bought it at the show ! also bought some Hunting DVDs  a few new Turkey calls ,Shot gun choke, rechargeable batterys for my fox pro, some decals for my truck , and also a few other odds and ends!!  It was fun but to many people there for my taste !

_________________
Each day is a gift
)))---------->

~Galen~

---
Permissions in this forum:
You
cannot
reply to topics in this forum